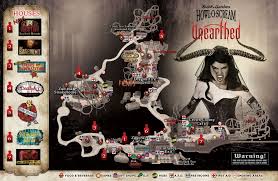 2015: Unearthed (We Dug too far)
Edit
Haunted Houses
Edit
Unearthed: Scarlett's Revenge (Gwazi Queue Line) - During maintenance at the park, an excavation crew uncovered a centuries-old house buried deep beneath the ground. Upon entering the house, a vengeful demon is Unearthed.
Zombie Containment Unit 15: Moving Targets (Former Akbar's Adventure Tours) - Armed with only a Z.E.D. (Zombie Eradication Device), it's up to you to hold off an undead mob in this interactive zombie hunting experience.
Dead Fall: Thirst for Blood (Orchid Canyon Building) - Humans and plants entwine with an insatiable thirst for human blood. Can you escape the blood-thirsty nightmare that has taken over this Victorian gardan and greenhouse?
The Basement (Bird Gardens Pavilion) - Momma's Meats' award-winning recipe has always been a family affair that's only created in the BASEMENT. Can you escape the depths before becoming the secret ingredient?
Death Water Bayou (Morocco Building) - Deep in the bayou the Voodoo Queen transforms wanderers into her evil minions. Those who enter must escape her dark magic before falling victim to her spell.
Circus Of Superstition: The Last Laugh (Gwazi Event Yard) - You've tried to avoid black cats and sidewalk cracks, but the bad luck of all your childhood superstitions has finally caught up with new demented fears.
Zombie Mortuary (Pantopia Warehouse) - Led by their queen, zombies infest this small town funeral home and satisfy their hunger with the fresh flesh and brains of mortuary mourners.
Scare Zones
Edit
Unearthed (Main Entrance)
Fiends (Dragonfire Grill)
Other attractions
Edit
Crash Test Zombies (UBanga Banga Bumper Cars)
Club Unearthed (Marakesh Theater)
Darkheart's Games of Skill (Pantopia/Bird Gardens/Egypt Game Areas)
Howl-O-Scream Shop of Horrors (Moroccan Village Bazzar)
Event Icon Edit
Scarlett
Community content is available under
CC-BY-SA
unless otherwise noted.