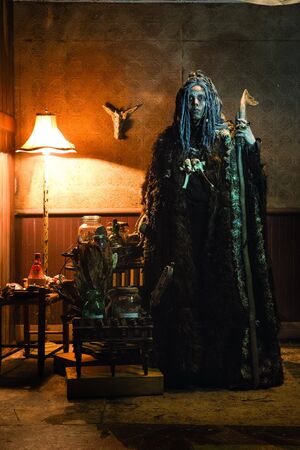 The Voodoo Queen is an upcoming event icon at Howl-O-Scream Tampa 2013. She is one of the 13 and is #6 in the group. She will have her own house, Death Water Bayou.
Backstory
Edit
Desiree Yanes came home one night and found her husband with another woman. Enraged, she ran off and disappeared inside the dark swamplands of Louisiana. There, she crafted voodoo dolls and swore then to torment them…with unspeakably sadistic tortures.
The Voodoo Queen continues to hide in the swamps of the bayou and perform her twisted Voodoo rituals for others seeking revenge.Brave souls can test their fate at the new house, Death Water Bayou, where the #6 Voodoo Queen mystically transforms lost wanderers into her minions of evil with black magic. Here, her night servants roam with a zombie-like hunger and seek to grow her collection. The darkest evils lurk in shadows. Get out before you fall victim to her spell.